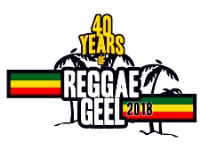 It's on August 3 and 4! Europe's oldest reggae festival celebrates its 40th birthday. With a line-up that includes names like Shabba Ranks, Lee "Scratch" Perry & Mad Professor, Protoje, Cocoa Tea, Sly & Robbie, Bitty McLean and Johnny Osbourne, you just know that Reggae Geel will once again set the stage for an unforgettable party.
Practical information
Get off at Geel station. As from there a free bus shuttle brings you in a smooth and carefree way to and from the festival site.
Provisional schedules bus shuttle
Friday: between 10 am and 11:30 pm, every 20 minutes
Saturday: between 10 am and 10 pm, every 20 minutes
Sunday: between 8 am and 2:30 pm, every 20 minutes
On Friday 3rd and Sunday 5th of August SNCB/NMBS foresees additional capacity in function of the opening hours of the campsite.
Ticket options
You can choose from several great value for money options, such as Go Pass 1, Go Pass 10 and Go Unlimited if you are younger than 26 years old and Rail Pass as from 26. During the weekend, the Weekend Ticket* offering a 50% discount is your best option for shorter distances.
Tip: Avoid waiting times and stress! Buy your train ticket for both your outward and homeward journeys in advance.
*Valid from Friday 7 pm until Sunday evening.
Access control
An access control will be organized at Geel station on Sunday 5th of August.
More info