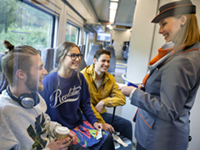 When a passenger chooses to travel by train, it is important that he can easily find the necessary information about the conditions governing his journey(s).

These Conditions of Transport were previously contained in a document that, whilst comprehensive was long and cumbersome. In addition, they included many specific cases and exceptions.

Consequently, we have restructured, standardised and simplified our Terms & Conditions. Our objective is to make it easy for you to find clear information when and where you need it.
General Travel Terms & Conditions
The General Travel Terms & Conditions are key to setting out the legal framework in which journeys take place. They are now contained in a document of around fifteen pages instead of the previous 250.
Check our general travel terms & conditions (pdf, only available in French and Dutch)
Special travel terms & conditions
The Special travel terms & conditions are included in the descriptions of various products and services. On these pages, you can also view or calculate the price of your journey. If needed, you can also view the transport ticket prices (pdf, only available in French and Dutch)
| Tickets | Season tickets | Passes |
| --- | --- | --- |
| | | |
Other services
You will find all the terms and conditions for other SNCB services on the pages for these services:
Support for your transport tickets
Glossary
Some of the words appearing in our terms and conditions require further information. You will find the explanation of the words used in the glossary (pdf, only available in French and Dutch)