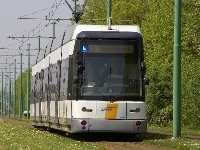 You can combine travel by train with travel on the De Lijn network. Save yourself some time and money with a combined Railcard – it's always cheaper than buying both tickets separately and you only have to use one ticket for all your journeys.
Your Season ticket combines your main route with the entire De Lijn network (special tickets and prices apply on the Limburg express lines 68, 178 and 179)
In get the combined Season ticket, your journey must include one or more routes served by De Lijn.
Travel over the entire De Lijn network can be combined with a Section Season ticket, Student's Season ticket and Rail network Season ticket.
You can calculate the price of your Season ticket simply by adding on the De Lijn supplement to find out the overall cost.
Your Season ticket is available immediately from the ticket office.
If you'd also like to use other transport companies in Brussels (TEC/De Lijn), it's best to buy a Section Season ticket and an MTB separately.
Practical information