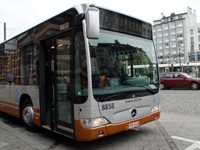 You can combine travel by train with travel on the MIVB/STIB network. With the combined Season ticket you only have to use one ticket for all your journeys.
Your Season ticket combines your main route with the MIVB/STIB network (Brussels) (except on the Bourget-Brussels Airport section of lines 12 and 21)
To get the combined Season ticket, your departure or destination station must be in the Brussels zone or Ruisbroek, Lot, Buda or Vilvoorde.
The Section Season ticket, Student's Season ticket and Rail network Season ticket can be combined with the MIVB/STIB city network.
You can calculate the price of your Season ticket simply by adding on the MIVB/STIB supplement to find out the overall cost.
Your Season ticket is available immediately from the ticket office.
Season ticket + MOBIB card
Since access gates were installed on the MIVB/STIB network, you automatically get a MOBIB card when you apply for a combined MIVB/STIB subscription. Both passes can be used together.
Practical information
If you are under 25, it is advisable to buy the MIVB/STIB subscription separately.
If you are 25 years old and you want to pay each month or every three months, the MIVB/STIB add-on is the best solution for you.
If you'd also like to use other transport companies in Brussels (TEC/De Lijn), it's best to buy a Section Season ticket and an MTB separately.
Practical information