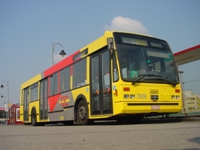 You can combine travel by train with travel on the TEC network. A combined Railcard saves you time and money, as it's always cheaper than buying both tickets separately and you only have to use one ticket for all your journeys.
3 different TEC fixed rates can be combined with railcards:
NEXT: for a short route (max. 2 consecutive zones)
HORIZON: for the entire transit network, except on the express bus lines, valid every day (mandatory for trips through more than 2 zones or the combination of several routes)
HORIZON+: 'HORIZON' + express bus lines, valid every day
Extra benefit: during Saturdays, Sundays and public holidays, the fixed rates NEXT and HORIZON will allow access to the entire TEC network (including express bus lines).
Railcard + TEC
Your railcard combines the most important route with one of the fixed TEC (NEXT, HORIZON, HORIZON+) rates.
You can calculate the total price of your railcard by adding the TEC fixed rate to the price of your NMBS/SNCB railcard (maximum 150 km).
Practical Information