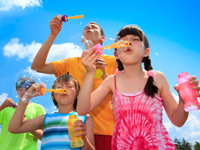 Get a discount of 50% for you and your children with the Large Families card. So you and your family travel cheaper by train.
Who can apply for the discount card?
Parents with a main residence in Belgium who have at least 3 dependent children under 25 can apply for this card for themselves and their children under 25.
If you have a specific family situation, please refer to our information about
special circumstances
.
How to apply for your Large Families card
When applying for the discount card(s) for the first time, you can hand in your request at your local station at any time.
Fill in and sign the application form (only French or Dutch) to apply for one or more cards.
Have the application certified by your local authorities* and/or the institution paying child benefits for children over 18 years of age.
Hand in the application form at your local station within 3 months, along with a passport photograph of each person.
Pay the application fee of € 6 per form (non-refundable), regardless of how many cards you're applying for.
After your details have been verified and if you meet the conditions to obtain a Large Families card, the ticket staff will then issue your discount card(s).
*An official certificate of family composition may be attached to replace sections I and II (issued by the municipality or through the internet).
Practical information
For more details, refer to the Large Families Ticket terms and conditions (only available in Dutch or French)
How long does the Large Families discount last?
Renewing an expired card.

Have you lost your Large Families card?